Following on from R's post on her preferred publications, and sitting down to write this post I realised that the time I used to while away reading magazines and sipping lattes has all but disappeared. Now some of this is because of the breadth and quality of blogs and magazines available on the Internet, but there is still some magic that can only be felt flicking idly through a real copy of a magazine.
Stylist Magazine
One of the perks of living in London is the free magazines and papers, admittedly sometimes aggressively, thrust in your face at many tube and rail stations. Stylist Magazine, is my favourite of the bunch, it's range of content, from fashion, through beauty, to lifestyle, and features, is perfect for it's wide audience. It's big achievement is being largely un-dumbed down and remaining an intelligent, entertaining read. Stylist understands that it's readers are intelligent, hardworking women, who also love fashion and pretty things.
Vogue
This has to be my longest standing magazine love. As R mentioned, I've read Vogue for many years, although for some inexplicable reason, I've never subscribed. Vogue has well earned it's place as the authority on style and I do subscribe to that. My experience of Vogue is almost exclusively visual, I pore over the the beautiful editorials, and leaf lovingly through the adverts. I could really do without the articles, and whenever I do read them I feel a vague sense of annoyance at the huge distance from reality the authors seem to be speaking from. I'll stick to the pictures.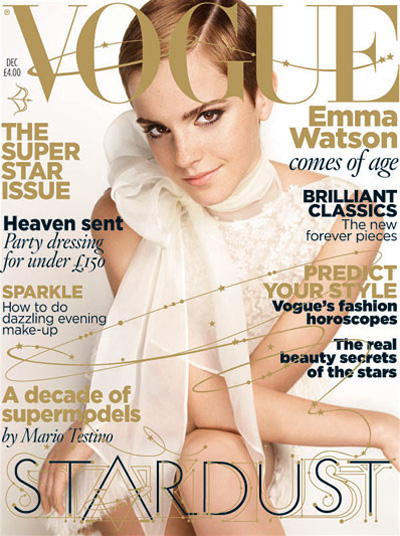 Adbusters/ The Economist
My third pick is a bit of a cheat. I'm not very loyal in my magazine reading and from month to month will pick up various publications. This will likely be a design magazine when I'm tempted by outstanding design or photography, or iD magazine, which is another long standing favourite. Having said all that, I do like to mix things up a bit and occasionally read something with very few pictures, something along the lines of The Economist or for a more anarchistic take on things, Adbusters. You know, to get the brain pumping again and stimulate thought.
What are your favourite reads?